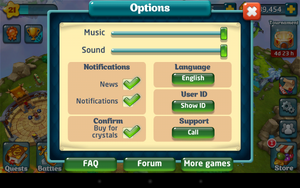 In Dragons World, have you ever wondered how to change the language, or receive (or get rid of!) updates, or make sure you know before you spend your hard earned crystals. Well now you can!
Different Options
Edit
In the game, you can change different options. Some of the basic ones are language, user ID, and applying for news and notifications. There is also a toggle for whether you want a warning before you spend
Accessing OptionsEdit
To access options simply click on the grey cogs, usually situated on the bottom right hand corner.
Ad blocker interference detected!
Wikia is a free-to-use site that makes money from advertising. We have a modified experience for viewers using ad blockers

Wikia is not accessible if you've made further modifications. Remove the custom ad blocker rule(s) and the page will load as expected.