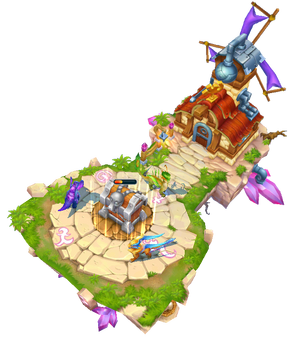 Occasionally, the Island of Exploration (a floating island with a special chest) will appear to the left of the viewed Islands. This chest is only available for 24 hours, and contains prizes, normally gold (

) or food (
).  The chest may also contain from 1-5 Crystals (

) or a special dragon that is only available from an elemental chest.  Although the possible rewards are known before an attempt to opens the chest is made, whether the chest contains the bonus reward (crystals or dragon) is not known until the chest is opened.
The current reward dragon is: Tornado Dragon.
In the past, a special limited reward dragon, the Cloud Dragon was available for opening the Elemental Chest. This dragon is not currently being offered as a reward and it is unknown if it, or another limited dragon, will be available in the future.
Opening the Chest
Edit
Opening an elemental chest requires three specific dragons of at least level 5, determined by the Trainer's level, as shown on the following table. There are 3 possible combinations of required dragons for each trainer level.
Unlike elemental obstacles; only the specified three dragon types can be used. In the image above, the required dragons were:

Level 21, Team #2:  Spring Dragon, Crystal Dragon, and Sun Dragon.
The opening time of the chest varies.  The time is reduced by any +% Clearing Speed perks possessed by the dragons opening the chest.
Dragons Required
Edit
Note: Level 36-70 are not shown, but they are currently a repetition from level 31-35 (e.g. levels 36, 41, 46, etc. use the same set of dragons as level 31).